Film Commissions
Go here to post your Film Commission.

North America > United States > Ohio
The Ohio Motion Picture Tax Credit provides a refundable tax credit against the corporate franchise or income tax for motion pictures produced in Ohio.
For Whom
Eligible productions must spend a minimum of $300,000 in the State of Ohio and may include:


Feature-length films


Documentaries (long-form, specials, miniseries, series and interstitial television programming)


Interactive websites


Sound recordings


Videos


Music videos


Interactive television


Interactive games


Videogames


Commercials


Any format of digital media


The Ohio Motion Picture Tax Credit provides a refundable tax credit that equals 30 percent of in-state spending and wages on eligible productions.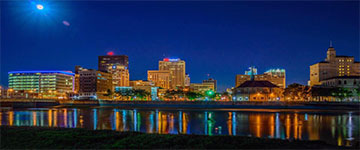 FilmDayton promotes and markets the nine county region, in order to recruit and facilitate the production of film, television, commercials, corporate videos, music videos, and documentaries, as well as emerging forms of media. Film Commissioner Lisa Grigsby explains, " in simple terms, the film commission acts as a concierge service for productions interested in using the Greater Dayton region as a backdrop." It's been a long time coming, but as FilmDayton Board President Shaunn Baker shares, "the commission has been a goal since the organization started in 2008, and I'm glad we've finally made it happen."


The Dayton Region has many assets ready to help make your film successful! We understand your needs for a location big enough to get the job done right, but small enough to offer accessibility, affordability, and authenticity.
Ohio's tax incentive program saves you money.
FilmDayton helps get you the permits and connections you need. Check out our FREE Production Permit.
Location, location, location: At the crossroads of Interstates 70 and 75, Dayton is convenient for talented cast and crew from Cleveland, Indianapolis, Pittsburgh, Cincinnati, Columbus, and other Midwestern cities. Plus - the Dayton International Airport is within 90 minutes by air to 55% of the country's population, ideal when a quick flight is necessary.
Need to set up an office ASAP? FilmDayton works with local property owners to get you the space that fits your needs. Complete our Production Office Questionnaire and let us connect you.
Dayton is home to talented local cast and crew, and FilmDayton helps keep their skills strong with ongoing professional development workshops. Plus, Wright State University - based in the Dayton Region - can boast one of the top Film Production Programs in the country. These talented students and graduates can support your project.
Don't break the bank on lodging, food, transportation, and other expenses that fluctuate with location. Dayton's cost of living is 27% lower than the U.S. average - which lets you spend a little more on the things that really matter for a successful film. Let us help negotiate some great deals for you.
Need a city skyline? Maybe a farmhouse on a large empty field? Need secluded woods? Need urban grit, suburban neighborhoods or historic elegance? The Dayton Region can provide all this and more - most within a 20 minute drive! See our locations database.
PLUS - you get a little hometown charm. Your cast and crew can either blend into daily life for anonymity or enjoy the accolades they deserve when out and about.
Greater Cleveland Film Commission
Tax rebate of 30% on all qualifying Ohio expenditures, with a minimum spend of $300,000. $40 million annual cap. No per-project cap.



For more information, visit http://www.clevelandfilm.com/incentives/

The vision of the Greater Cleveland Film Commission (GCFC) is to achieve increased economic development in Northeast Ohio by using the artistic and culturally enriching activities of film and other media production to strengthen the workforce, support the media production industry and attract media production to the region.
Greater Columbus Film Commission
Film Columbus is here to help film and commercial productions by providing the wide range of necessary resources a production requires.

Columbus is the largest city in Ohio. It is located in central Ohio on the Scioto and Olentangy rivers. As the 15th largest city in the United States, Columbus is located within 550 miles of half of the U.S. population and downtown is just 10 minutes from Port Columbus International Airport.

Columbus can double as a vast array of locations, and with the low cost of living, the city is a great option for productions of all sizes.
Oops! You need to log in to use this feature. Log in above or register for your free
InkTip account here