InkTip Magazine: Publish Your Loglines
We'll send them to over 35,000 producers and reps.
Submission Deadline - Friday, August 25th
Final deadline to include your loglines in the next magazine is Friday, August 25th.
FOR THIS ISSUE ONLY, American Film Market (AFM) is sending our magazine –
which includes loglines from InkTip writers – to their network of industry professionals.

That means by selecting a number below and clicking publish, your loglines will be
sent to the inboxes of over 35,000 producers, execs, reps and more! That's the most ever!

You will not get another opportunity like this for another year.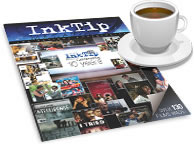 Select how many loglines you want to publish in InkTip Magazine
Your 1st logline is $40
Your 2nd is $35

(save 13%)

Your 3rd (and each additional) is $30

(save 25%!)
Select number of loglines to be published: