Screenwriting Contests
Log in above to get submission discounts, take notes, and favorite contests you're interested in.
Fee Colors:
Feature Fee
Shorts Fee
Teleplay Fee
Final Deadline
Winners Notified:
Feb 21, 2019
Over $20,000 in prizes & entry bonuses!

FREE FEEDBACK!

FREE STORYTELLING PATTERNS E-BOOK!

SPECIAL DISCOUNT for Web Series & Audio Series Pilots – See 'Enter' Page for Details!

SPECIAL BONUS PRIZES for Web Series & Audio Series Pilots – See 'Prizes' Page for Details

ALL ENTRANTS CAN REPLACE ENTERED DRAFTS W/REV VERSIONS Until Contest Closes!

We are all about giving agents, showrunners, and executives exactly what they now are looking for: Spec pilot teleplays that showcase you, the new writer operating at your very best. If the suits love the writing of a spec pilot, they have the best reason in the world to trust the writer to come through in the development process. A strongly-written spec pilot shows you're ready for the gig.

Winners, Finalists, and Semi-Finalists of TVWriter™'s past contests are or recently have been on the staffs of:

STRANGER THINGS
THE GOOD DOCTOR
LETHAL WEAPON
WESTWORLD
MOM
NARCOS
TIME AFTER TIME
GREY'S ANATOMY
THE LEFTOVERS
THE BASTARD EXECUTIONER
ANIMAL PRACTICE
KILLER WOMEN
NTSF:SD:SUV
GIRLFRIENDS
FILTHY PREPPY TEENS
MELROSE PLACE
SNEAKY PETE
CHICAGO PD
CHICAGO FIRE
PERSON OF INTEREST
THE WALKING DEAD
RIZZOLI AND ISLES
COLONY
ONCE UPON A TIME
TERMINATOR: THE SARAH CONNOR CHRONICLES
SMALLVILLE
ROME
PRIVATE PRACTICE
SNOWFALL (upcoming)

And that doesn't include various TV movie assignments & other one-offs!

The PEOPLE'S PILOT COMPETITION is held yearly, opening for entries June 1 and closing November 1. We do our best to announce the Winners, starting with Semi-Finalists, over a two week period in January and February of the following year.

The contest is for scripted series intended for just about any media you can think of. Broadcast TV. Cable and satellite TV. Internet series on major sites from Netflix, Amazon, and Hulu through YouTube, Vimeo and other popular uploading channels and venues, to your own personal website.

Categories

The PP is divided into 2 prize-giving categories:

Scripted Comedy Series – intended for any electronic platform (including broadcast and premium cable series, internet series, cell phone series et al) of any length of any length required for telling your story

Scripted Drama & Action Series – intended for any electronic platform (including broadcast and premium cable series, internet series, cell phone series et al) of any length required for telling your story

All categories are open to any imaginable sub-genres, including:

Drama
Comedy
Action
Dramedy
Anthology
Science Fiction
Fantasy
Children's
Soap Opera
Medical
Legal
Police & Detective
Historical
Live Action
Animation
Puppetry
Anything else we haven't mentioned that you want your series to be.
In other words, the PEOPLE'S PILOT is wide open to whatever you want to express and whatever expresses you as a creative force best.
Final Deadline
Winners Notified:
Mar 17, 2019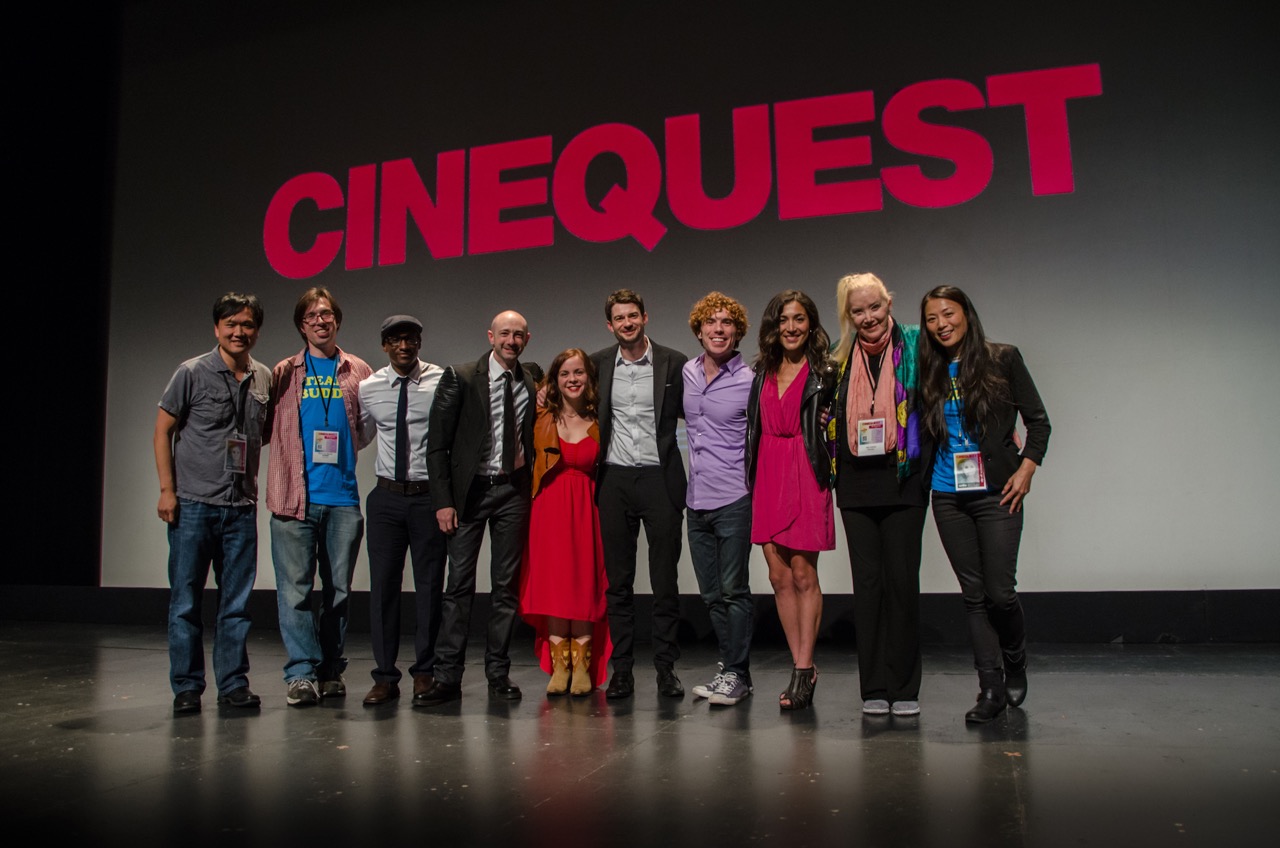 WRITERS CELEBRATION

Celebrating the Screenplay Competition's Top 10 Finalists, the electrifying Writers Celebration occurs during the Cinequest Film & Creativity Festival and includes opportunities for writers to connect with producers and enhance their careers, networks and opportunities. Writers Celebration events will include:

Business of Writing Forum
Writer Meets Producer Mixer to connect with industry leaders
Pitch Training with expert pitch coaches
Pitch Challenge to a panel of industry powerhouses
An inspiring Maverick Spirit luminary event.

HOW TO SUBMIT YOUR SCRIPT
Submissions through Withoutabox accepted from MAY 1ST - NOVEMBER 2ND, 2018 (Extended Deadline)
Cinequest direct submissions accepted MAY 1ST - OCTOBER 12TH, 2018 (Late Deadline)

See fee schedule and all deadline dates below.

FEATURE SCREENPLAYS

A $5,000 cash prize will be presented to the winning feature-length script. Finalists will also get their scripts read by industry professionals. Previous industry readers have included: ICM Partners, Lions Gate Films, Happy Madison Productions, Entertainment One, XYZ Films, First Light Films, Lupovitz Productions, Echo Lake Entertainment, Verve, and Popular Films. This year the jury will include executives from Netflix, HBO, CBS, Vimeo, Music Box Films, Film Movement, Bond 360 and Women Make Movies. (Rules and More Information)

"After the Cinequest Writers Celebration, an angel investor has swooped in and offered to finance my film. WorkingMan will begin immediate pre-production and will be shot next winter/early spring. Thanks so much to everyone at Cinequest for opening doors to filmmakers and artists everywhere!" -- Robert Jury, Feature Finalist, WorkingMan
SHORT SCREENPLAYS

Our short-film script category continues to attract a diverse international pool with a $1,000 cash prize and a future screening opportunity at Cinequest Film & VR Festival for the winning script. (Rules and More Information)

"We had an incredible time at the festival, and are very much still in complete awe of the amazing response to the film…pretty much everything you'd ever want as a filmmaker. It was a very surreal experience." -- Travis Neufeld, Shorts Winner, Tinwife (premiered at Cinequest in 2017)

TELEPLAYS (60 Minutes)

A $1,000 cash prize will be presented to the winning 60 minute teleplay and an opportunity to be read by some of today's top television studios. (Rules and More Information)

"I was thrilled when Cinequest selected my pilot script as a finalist for the teleplay competition. Writers need all the support they can get and Cinequest gave it in abundance. Not only at the festival, with conferences and events for the writers, but long afterwards, when you're back at the desk and find an email from one of the devoted people at Cinequest in your box. When they get behind you, they stay behind you and continue to do everything they can to help push your project forward." -- Matthew Dixon, Teleplay Finalist, The Glass Hotel (optioned by HBO in 2016)
TELEPLAYS (30 Minutes)

Our 30 minute teleplay category offers writers a chance to showcase what could be the next hit series on TV! $1,000 cash prize to the winner.

"I loved the artist/writer events. It was a pleasure getting to speak with other finalists— writers who are so very creative, talented and diverse in outlook…The importance of Cinequest is that it brings us together, not despite our crazy aspirations as artists, but because of them… and best of all, their encouragement stokes the fire to keep us going." -- Ada Lee Halofsky, Teleplay Winner, Throwing Shade

ANNOUNCEMENTS

Top 50 and Top 10 Notified in December 2018.
Top 10 Finalists listed on Website January 23rd, 2019.
Top 3 and Winners Announced in March 2019 at Script to Screen Event and in the Festival Awards Press Release.