InkTip Events Directory
Register here
to post your event.
European Cinematography Awards
Date:
Feb 20, 2020
Time:
11:00am to 9:00pm
City:
Amsterdam
Entrance Fee:
$0-40
Phone:
Email:
europe@cawards.org
Google Map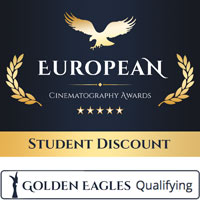 European Cinematography AWARDS (ECA)

Official IMDb Award Listing Qualifier

ECA is Monthly and Annual qualifying film competition for filmmakers worldwide. We support new and student film-makers, who are just beginning their careers with a supportive and enthusiastic audience for their creative efforts and giving them access to film industry professionals who can offer guidance and other forms of career assistance.

ECA film industry specialists announce semi-finalists, finalists and winners each month.

Cinematography AWARDS officially called the "Golden Eagle" is an award in the form of a statuette for outstanding achievements in the field of cinematography.

We only award the best independent filmmakers after a comprehensive evaluation process. Our judges evaluate the quality of filmmaking, creativity, and storytelling ability. Our mission is to promote films, and be another step up in the filmmakers' careers.