Film Festivals Directory
Log in to get submission discounts, take notes and favorite festivals.
Register here to post your call for entries.
Writers and producers, register here instead.
Fee Colors:
Feature Fee
Short Fee
Range of Fees
Fee Colors:
Feature Fee
Short Fee
Range of Fees
"On Time"
Final Deadline
"Late"
Winners Notified:
Jul 1, 2019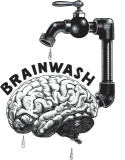 Brainwash, since 1995, has delighted audiences with a selection of the bizarre, the unique, and just plain old well-made movies from independent producers all over the world. With an eye toward the abstract, the innovative and the weird, Brainwash salutes it's 25th Silver Anniversary this 2019 season and will have a Unity Night of movies as well as a hot little Silver Anniversary Celebration. We have consistently attracted entries we curate to be able to display some of the most cutting edge cinema from up and coming directors, actors, producers and crews consistently year after year. So please send us yours this year and help us celebrate! Thank You!

REPORT FROM BRAINWASH MOVIES, OAKLAND, CA
We are Brainwash Movies, doing the Brainwash Movie Festival. We've been going every year for 24 years, and are looking forward to celebrating our 25th Silver anniversary this festival season, in July. Presenting an aesthetic beyond the parameters of the everyday & the usual, we expand into the roots of the underground, experimental & just plain charming.
Our top winners last year were: 2nd Grand Prize Award to Twice Upon a Time by Vojin Vasovic and the First Prize Award to High Five the Cactus by Christopher Allan Thomas.
Our festival is a mainstay in the local, East Bay of the San Francisco Bay, CA, area. Submissions are now open on FilmfreeWay, Withoutabox and other major submission platforms online.
We're also looking for interested individuals to participate with us.