Film Festivals Directory
Log in to get submission discounts, take notes and favorite festivals.
Register here to post your call for entries.
Writers and producers, register here instead.
Fee Colors:
Feature Fee
Short Fee
Range of Fees
Fee Colors:
Feature Fee
Short Fee
Range of Fees
Opens for submissions:
Apr 1, 2018
Early Submissions
Regular Submissions
Late Submissions
Final Deadline
Winners Notified:
Sep 2, 2018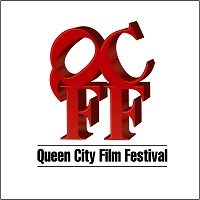 The Queen City Film Festival (QCFF), Western Maryland's premiere film festival, is held each year in early Fall in Cumberland, Maryland. Founded in 2012, and currently in our seventh year, QCFF 2018 will be held October 4-7 at The Venue At Mezzos in Cumberland, Maryland. QCFF offers a four-day program of screenings and educational panels, and welcomes filmmakers from around the world. Located in Allegany County, Cumberland offers a delightful blend of hospitality and history; mingled with charming shops, delicious dining, arts and entertainment and lots of events and activities.

Previous festival favorites include Record Paradise, Led Zeppelin Played Here, Underbelly Blues, M Cream, Lady Be Good: Instrumental Women In Jazz, Bounty Momma, How Sweet The Sound: The Blind Boys Of Alabama, Subterranea, Australiens, and CADES: Forestglade Of Death, Better Half, Peelers, Nighthawks On The Blue Highway, and There Is No Such Thing As The Record Label Fairy.

Our educational panels focus broadly on Appalachia, historic preservation, and redevelopment for the arts, and often include film presentations such as LowerTown Paducah, Farewell To Factory Towns?, and Through The Place.

Last year's festival included such award winners as the shorts H0_pe 02 and Under The Apple Tree, and the features Pigheaded, Samuel Barber: Absolute Beauty, MUXE, and Dickinson Avenue: The [mostly] True Story of The Paddock Club.

Our categories for 2018 are Animation, Appalachian, Cult, Documentary, Horror/SciFi, Kids/Family, LGBT, and Music, including the return of and our popular Happy Hour music video block.. We welcome eclectic fare and encourage submissions that qualify in as many categories as possible. QCFF also embraces and promotes films by Maryland filmmakers and films made in Maryland. We have been pleased to introduce visiting filmmakers to local media.

Submissions are being accepted via FilmFreeway. Volunteers for production crew, event staff, or screeners should contact info@alleganyalliedarts.org for more information, or visit us on Facebook.
Opens for submissions:
Mar 28, 2018
Early Bird
Regular
Final Deadline
Winners Notified:
Sep 7, 2018

SmartFone Flick Fest is Australia's only international smartphone film festival for filmmakers of all ages and 2018 is our 4th season.
We are an international festival open to anyone with a smartphone or tablet and a great idea for a short film.
SF3 provides a platform for budding filmmakers to bring their ideas to life and have their films seen by a global audience, without the need for lots of fancy equipment or a big budget.
That great story you have always thought would make a great film? Here is your chance!
Just about everyone now has access to a smartphone or a tablet so start filming. It's that easy.
From all the eligible entries, 14 films will be selected to screen in the SF3 Gala Awards Final Night, held at the Chauvel Cinema in Paddington, Sydney, the last week of August, 2018. At this screening our esteemed judging panel will award our SF3 prizes to the winners of each category, and the winning filmmakers and actors will take home prize packs worth in excess of $10,000.
Prizes: Best Film, People's Choice, Best Director, Best Cinematography, Best Screenwriter, Best Actress, Best Actor, #FILMBREAKER Award for 1st time filmmaker, Kids Flick Pick (for under 18s) and the Founders' Flick Pick.