Article
One Writer's Journey: From Script to Shooting to Unfortunate Timing
Written by: Matt Harris-Freeth
Published: May 12, 2020
I've always loved genre films, whether it's sci-fi, horror, thriller or adventure. As a writer-director, I hope to be able to work across a range of genres and use them to explore challenging and interesting subjects in an accessible way. In the UK (where I'm from), I feel genre doesn't get the love it deserves, but I think there's a lot that can be done by working firmly within a genre.
My day job is directing and editing for shorts, commercials, and promo material, and I hope in the not too distant future to direct feature films and TV. I have plenty of ideas for films, more than I can ever make in a lifetime. Until recently, I've never felt the confidence in my writing to label myself as a writer, and I write out of necessity to generate projects I want to direct.
In late 2018, I completed a screenplay for a short horror film, Invisible Monster, about a woman trapped in a violent relationship who is attacked by an invisible monster and realises she has to fight back in order to survive. By making this film, I hoped I could showcase my directing style and also use it as a proof of concept for a feature.
In various forms, I worked on this idea for years, and it took me a long time to get to a draft that I was happy with, mainly because there was a lot about writing I didn't know. With each new draft, I would solve problems but also come up against new challenges. It was overcoming these challenges that taught me how to write better. I read books on writing, read screenplays, found a mentor and a script editor, and discussed writing with my friends.
The more I learned, the better the script became, and eventually, the story I was meant to tell revealed itself. I felt it did everything I set out to do a few years ago but didn't have the writing skills to achieve back then. I sent it to some trusted friends who read it and told me it was good (which was better than previous feedback). So, I felt it was in a good shape to shoot.
Festivals
Invisible Monster was an ambitious script to bring to the screen. I needed to find funding to get it made, but I also wanted to have some momentum behind the project in the meantime. I'd had some success entering films into festivals before, and I'd won a writing competition a few years back. I decided to enter Invisible Monster into some screenwriting festivals. I thought that if it was selected it could raise the profile of the project and help its chances of getting funded. I still didn't really consider myself a writer at the time.
From my experience with film festivals, I'd learned that each festival has a 'personality' and a type of film they are more likely to go for, so the key was to aim for festivals that were more likely to choose my script. I knew that I should give myself a strict budget for entry fees and understand that my work is more likely to be rejected than not; my short film Crocodile was entered into 60+ festivals and was selected for 15.
I did a bit of research into screenwriting festivals and competitions. My strategy was to enter respected genre festivals but also a few high-profile competitions that covered all genres. I felt as a genre film, Invisible Monster would do better in the US. I knew there are some great festivals that celebrate genre films, and so I focused my attention there.
I gave myself a budget of £200 (about $260) and would spend more on a few higher profile competitions. As my aim was to get the film shot, I only entered festivals / competitions that had a cash prize (or some kind of help towards production) as I thought any prize money could be added to the funding pot. But I also reminded myself not to expect anything. This was the first time I'd looked at entering into multiple screenwriting competitions.
Browsing through festivals, I was able to create a list that I could submit the finished film to, and it was a really helpful task in understanding the audience I wanted to make the film for.
Enter Cinequest
The first festival I submitted to was Cinequest. As an Oscar-qualifying festival, I planned to submit the finished short film there, and I saw that it had a screenwriting competition too. I looked back at who had won the short screenplay award in the past, I recognised some of the titles and felt like Invisible Monster could do well there.
In December 2018, I received an email from Cinequest.
"We are so thrilled to inform you that Invisible Monster is one of the Top 50 Short Film Scripts for the Cinequest Screenwriting Competition. Finalists would be announced a month later."
I felt optimistic and strangely confident. A month later, I received another email—I'd made the top 10! The prize was a festival pass and some writer focused events/workshops. It felt like a mark of success for the project.
Unfortunately, I was unable to attend the festival, so I watched the festival from afar. I received email updates throughout and saw snippets of the festival via Instagram; I saw the Hollywood A-Listers who attended and read about the events I was missing.
There was a Writer's Day Celebration full of private pitch training sessions, a panel on taking your work, "from Script to Screen," and loads more led by industry experts, all of which would have been super helpful to attend.
It looked like a fantastic festival, but I was really pleased that my screenplay positioned in the top 10. One of the best bits of attending a festival is meeting people at a similar stage in their career. I wished I'd gotten to meet the other finalists and learn about their projects and their experiences writing them.
A few days after the festival ended, I found out Invisible Monster had actually won the grand prize! As part of the prize, the finished film would be invited to screen at a future Cinequest. This was fantastic!
The Invisible Film
During 2019, Invisible Monster was selected for a number of other film festivals and competitions including Filmquest, GenreBlast and Hollywood Horrorfest. I got a few rejections too, but I took them in stride. For the first time, I started thinking of myself as a writer as much as a director.
The festival recognition and the Cinequest win were invaluable in finding funding for the project—and they gave me a clearer idea of where the film's audience was. With the festival successes, I was able to secure funding for the film—a combination of private investment and selling some of my childhood Star Wars toys. The cash prize from Cinequest topped it off. I was offered in-kind support from some incredibly talented people too.
I planned to shoot in early 2020 and hoped to have it finished for festival submission later in the year. And then the trailer for The Invisible Man dropped.
It was a feature about a woman who escapes an abusive relationship only to be terrorised by an invisible entity. The similarities to Invisible Monster made me nervous, and when I finally saw the film, I realised that, unfortunately, Invisible Monster in its current form will have lost the potential impact that I hoped it to have. I made the difficult decision to cancel the shoot.
But all is not lost.
I've been on a real journey with this project. I have honed my writing, learned how to think about audience and genre, and most importantly, I gained confidence in my writing (helped in part by the festival success). I finally feel comfortable calling myself a writer.
I still have a lot to learn about writing, but I've moved on to some other projects and am exploring different directions for Invisible Monster. I'm looking forward to the journey, and hopefully, I'll have another opportunity to attend festivals with my screenplays.
Some things I learned along the way
Some of this may be pretty obvious for a lot of writers, but there are some simple things that took me a while to figure out that really helped with my script.
Set up the genre element early and don't be ambiguous; if you are making a horror and it feels like a drama, it will alienate the horror audience. I thought I was being smart and could tell a story of domestic abuse with a horror element, but it fell flat. It was too 'horror' for drama audiences and not horror enough for genre fans. It wasn't until I embraced the genre that it started to come together.
Set the stakes at the beginning. If the audience knows what's at stake for the main character, they can relate to them more and understand their actions, even if they don't agree with them.
Don't get hooked on imagery and symbolism. As a director, this was a hard one to get past. Write true to the characters and work out how it will be shot once you're happy with the script.
Write action to show character. So, a character rarely 'walks' somewhere, they 'swagger' or 'tip-toe' or 'creep' or whatever describes the character's approach to a situation. If I write a simple action, I return to it and ask questions: How would the character drink their latte? Sip it? Down it? Savour the aroma? Add more sugar? What does it say about them in that moment?
In terms of writing technique, try to avoid having one-word lines. Reword sentences if possible. This reduces the length of your screenplay and most importantly makes it more readable.
And don't fixate on the destination. Learn to enjoy the journey of writing.
---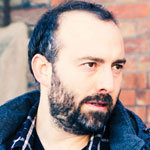 Matt Harris-Freeth is an award-winning and BAFTA long-listed writer-director living in Bristol, UK. His shorts have screened at Oscar and BAFTA qualifying festivals worldwide and won Best Short at the Royal Television Society West Awards in both 2016 and 2017. His screenplays have also been selected for international competitions, winning a number of awards including Best Short Screenplay at Cinequest 2019. He's currently working on his next short film and developing his first feature.
You can find his site at www.mattharrisfreeth.com. Follow him on Twitter (@mharrisfreeth) or on Instagram (@mattharrisfreeth).