InkTip Screenwriter Writes & Directs Star-Studded Film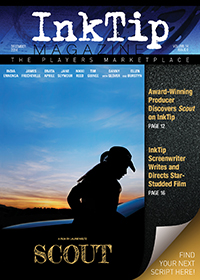 December InkTip Magazine
InkTip was excited to speak with Laurie Weltz, one of the screenwriters on InkTip who has successfully optioned and directed their own script, about her upcoming film Scout, starring Jane Seymour, Ellen Burstyn, Danny Glover, Nikki Reed and India Ennenga. Scout was also the winner of the Bronze prize for Drama in the 2010 Page Awards, among other contests.
Laurie started in the film industry when she was 18-years-old working as an intern at WNET-TV in New York City on The Cheever Trilogy. Since then she has pretty much held every position imaginable in production: assistant production designer, script supervisor, props, food stylist, editor, writer, director, sound recordist, grip and electric, et al. Her diverse knowledge of production as well as attending NYU Grad Film school has helped her build a strong foundation for her work as a writer and director.
InkTip: You directed Scout. How did you market the script knowing you wanted to direct it?
Laurie: I think it is always harder to get a film made when you attach yourself as a director, but I had written this script as a project for my daughter, the actress India Ennenga, and me to work on together, so I wasn't going to give that up. I just kept persevering until I found people who not only believed in the script, but also believed in my ability to direct it.
InkTip: You were the director and one of the writers on Wrestling with Alligators, which was nominated for the Grand Jury Prize at Sundance Film Festival. As an already produced writer/director, what made you decide to market your work on InkTip?
Laurie: I wish I could say that once you make a film the doors open up and everything is easy, but unfortunately that isn't always the case. So you keep trying anything you can to make your next film. I had put another project up on InkTip and had success with it, so I decided to do it again. I think it is a great vehicle for writers to get their work viewed by people who might not ordinarily see it. Also Scout had won some screenplay contests, and I think that always helps when putting it up on a site, to help draw some attention to your work.
InkTip: The cast is wonderful for Scout. Can you tell us more about the process of casting the roles?
Laurie: As I said earlier I had written the script for my daughter, India Ennenga, to play Scout, so that was easy. We had a couple of other actors attached early on, before we had any money, which is always nice, but by the time we were ready to shoot they had to drop out because of scheduling conflicts. I had a wonderful casting director, Todd Thaler, and we made a list of people that we wanted for each role, and he just sent the script out, and actors responded to the work and wanted to do it. Also Innovative Artists, which is my daughter's agency, was very helpful in getting the script to some of their clients: Ellen Burstyn, Tim Guinee, and Jane Seymour. I am really grateful to have had such a wonderful cast, and they were all great to work with, from the young Onata Aprile to the consummate pros like Ellen Burstyn and Danny Glover. It isn't always easy on a low budget film to keep your actors happy, but we really lucked out.
InkTip: What direction did you decide to take with the script and characters in Scout?

Laurie: Some of the subjects that I was dealing with were pretty heavy and could have gone over toward the side of melodrama, but I definitely didn't want that, so I tried to inject some comedy into the film and to keep the characters quirky and interesting. We were definitely going for more of the road movie/art house feel, and I also wanted to make a film that would appeal to people like our protagonist: teenage girls and young women.
InkTip: Your scripts seem filled with interesting, flawed characters. What compels you to tell these particular, dramatic stories?
Laurie: I try to keep a balance in each character of both good traits and bad, as I think that makes your character's more well-rounded and interesting, so that no one is truly a bad guy or a good guy. I also tend to look for what makes people different and quirky, without going too over the top and creating people who are totally unbelievable. I think if you give each character just a little bit of an interesting and weird backstory it helps to bring them to life. I play these games with myself all the time where I see a weird headline or hear a story about some strange thing happening to someone and then try to figure out how that event will change their life, what kind of person will they be 20 years later because of that event. For instance the character that Nikki Reed plays in my film saw the Virgin Mary on the side of a 14-wheeler when she was a little girl, and now that she is grown up her life has very much been effected by that event and the attention and quasi-fame that she received because of it.
InkTip: What is the catalyst that sparks your writing process?
Laurie: I usually start with characters and settings, these are the easiest two things for me to work from. Story is always the hardest and comes later. I can usually visualize my characters and the places that they inhabit, as if I knew these people and had been to these places, before I ever get to work on the script.
InkTip: How do you get through writers block?
Laurie: I wish I had a magic answer for this. I get writer's block all the time. I think what helps me is to always have more than one project at a time that I am working on, so if things aren't going well on one I can switch. But I also try to force myself to write a certain number of hours every day, and often when I feel completely stumped I will get up and take a long walk. I get some of my best ideas while walking.
InkTip: What are you working on now?
Laurie: I have a couple of things percolating. I have a middle grade novel that I have been writing forever, but keep having to put aside to work on other things. I'm also starting a new script, and I'm working on a TV pilot as well.
InkTip: What advice can you give other writers who are trying to get their foot in the door?
Laurie: Don't give up. It's a really hard business and perseverance goes a long way. Apply to script writing competitions. A win in a competition can be really helpful. If you can find a writer's group to be a part of it; I think that really helps as well, not only in the feedback you get, but in keeping you motivated to write. Watch as many films as you can, read lots of other scripts, and just keep doing it, and if you are a good networker, use that as well to get to know people. Producers and people like that are more likely to read your script if they have a personal connection with you. Just know when not to be too pushy or aggressive.
_________________________________________________________________________
Chris Cookson has been with InkTip for over a decade heading up the writers department after managing the producers department. She has interviewed numerous producers, directors, and screenwriters for the InkTip magazine. You can read more of her work on her blog Novel2Screen where she reviews adaptations to the silver and small screen as well as interviews with writers, actors, and more.