Inside The Mind of a Thriller Writer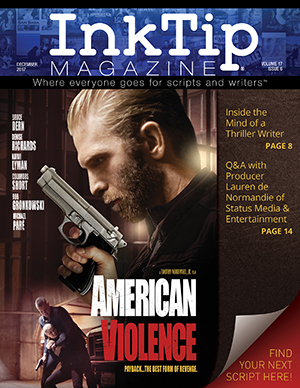 American Violence
There's a standout moment in American Violence when criminal psychologist Dr. Amanda Tyler begins to interview death row inmate Jackson Shae. When told that Dr. Tyler has read his file, Shea coldly responds, "And what? You've read some papers. Some files some prison hack too stupid to make it on the outside wrote about me after he showed me some ink blots. You read that and think you're inside my head.
Getting inside Shea's head is just what novelist-turned-screenwriter Al Lamanda set out to do in American Violence, his first produced film through InkTip. The film stars two-time Academy Award nominee Bruce Dern, Kaiwi Lyman, Denise Richards, Columbus Short, Johnny Messner, Michael Paré and features reigning UFC Heavyweight Champion Stipe Miocic and New England Patriots tight end Rob Gronkowski.
Lamanda, who connected with Status Media's Lauren de Normandie through InkTip's Preferred Newsletter, asks viewers to look beyond Shea's rap sheet to learn the truth behind's Shea's actions. Rather than taking the traditional route and raising questions of Shea's guilt, the film instead serves as the brutally honest deconstruction of the tortured psyche of a murderer. As Shae explains his past, audiences are given insight into his actions, slowly learning what led him to his spot on death row. Now, just as Dr. Tyler interviewed Jackson Shea in the film, we've been given an exclusive peek inside the head of Al Lamanda to analyze the inner workings of a produced screenwriter. It's time to break out those criminal psychology skills and see what makes this InkTip writer tick.
INKTIP: Tell us about yourself. How did you get your start in screenwriting?
AL: I am primarily a novelist with about 20 published novels, with an additional 5 being released in 2018/2019. I've always loved film and decided to take a crack at it and entered a screenplay I wrote into The Austin Film Festival where it was runner-up for best screenplay. After that, a friend of mine who owns a small production company asked me if I could write a small budget horror film for him. We got it done and the small film actually made some money. I am agent independent at the moment and have always negotiated my own book and now film deals.
INKTIP: What was your inspiration for American Violence? Tell us about the film and what you'd like to share about it. Is it your first produced feature?
AL: I spent a lot of time as an investigator in New York and New England and I've always been curious as to what makes a criminal tick. No one starts out to be a criminal and I wanted to explore the other side of the coin. I wanted to write a story that wasn't so cut and dry and that showed realism on both sides of the coin, while at the same time entertaining the audience and leaving them with something to think about.
INKTIP: You and Lauren de Normandie (the producer of the film) connected over InkTip's newsletter. How was that experience? Was there a deciding factor that made you move forward with the option?
AL: Connecting with Lauren de Normande, the producer of the film through InkTip was an absolute breeze. If I may, there are many sites that claim insight to Hollywood producers but never deliver. InkTip does and their process is simple to work with. What clicked with me and Lauren was pretty simple, she was looking for a story similar to mine and through InkTip we contacted each other. Although I had interest from several other independent film producers, I chose to work with Lauren because she was easy to talk to and relate to and made the entire process very simple to navigate. I am very grateful to her for the opportunity and would work with her again in a heartbeat.
INKTIP: Your script was optioned in July of 2015 and released in February 2017. What was that 19 month period like for you? Any advice for other writers who've recently gotten an option?
AL: During the 19 months between option to film, I kept busy writing two new novels and another screenplay. I wasn't asked to do rewrites and Lauren and I kept in touch on a regular basis until the film was complete. My advice to writers who have recently gotten options is to not bug the people that optioned your work. They are professionals and know what they are doing. They will reach out to you with and when they have questions. Bugging them will only serve to raise your own anxiety level.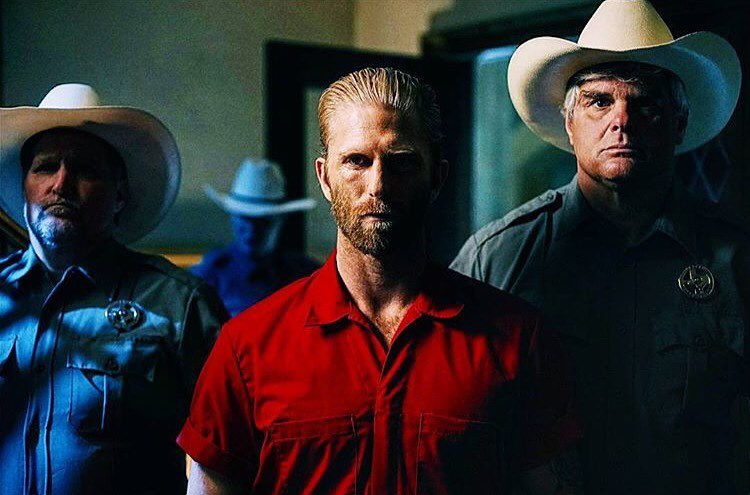 INKTIP: How do you feel about the film and seeing it on screen? Do you have a favorite scene?
AL: Seeing the film on screen at the Hollywood premier was an amazing experience. To see and hear words you wrote acted out by such an amazing cast left an impression on me that will stay with me forever. If I have to pick one scene as a favorite it's when Michael Paré (Eddie and the Cruisers, The Virgin Suicides, The Lincoln Lawyer) is introduced as the master thief. I have been a huge fan of his work for decades and to watch him act out words that I wrote simply floored me. Afterward, when we met, he is just about the nicest man you will ever want to meet.
INKTIP: How has your experience with InkTip been so far?
AL: I can honestly say that I love InkTip and will continue to be part of the family for as long as I can. I am on first-name basis with many of the people and they actually do answer emails in a timely fashion and genuinely do care about their clients. Thanks to InkTip, I do have some new fires burning, but I am not allowed to talk about them as yet. As soon as I am able, I will fill you in on the progress.
INKTIP: How did you decide to use InkTip?
AL: My decision to contact InkTip was a pretty simple one. When I had the script ready, I did my homework on sites offering the same types of service. My decision was based on which site had the highest customer satisfaction rating and I chose InkTip. In a lot of ways it's like buying a car, you go where the most customers are the most satisfied.
INKTIP: What are your favorite films and how has that influenced your writing?
AL: Some of my favorite films are The Searchers, Shane, Bullitt, Serpico and Citizen Kane. How they influenced me is that they are not just highly entertaining films, but they leave you thinking about what you've just seen. There are many films that entertain, but when the lights come on and you go home you don't give them a second thought. I want to give people a second thought while they are being entertained and afterward.
INKTIP: I see that you live in Maine. How have you been able to pursue a screenwriting career there? What unique challenges/benefits do you have?
AL: I live in Maine, but I'm from New York City. Twenty years ago it would have been more of an issue, but with email it's really no different than if I was still living in Manhattan. No one wants a hard copy in the mail anymore, so emailing documents can be done from anywhere. The one drawback is that it's a long way to the West Coast. However, where I live is a postcard setting and the serenity provides me ample opportunity for writing without the distractions of the hustle and bustle of a big city. I may have to drive ten miles to get a quart of milk, but it's a beautiful drive.
INKTIP: What's one thing you wish you knew earlier in your career?
AL: That people in the business are far more approachable than you would think. If you have a great story to tell, they will listen. But, they won't listen if you believe them unreachable.
INKTIP: Please tell us about your writing process. Do you have a writing routine? A specific way you approach a new script? How do you decide if an idea is worth pursuing and writing a script about?
AL: Writing requires discipline. It's very easy to become distracted and lose focus. I set up a routine for myself that I rarely stray from. I enter my little office around nine. Some days I spend making notes on ideas and plot points. Other days I'll crank out ten or more pages. I approach each script or novel differently because each is a different story to tell. I try to stay away from cookie-cutter writing and clichés. I know right away if an idea is worth pursuing if it rings hollow on the page. If the writing seems false to me, the writer, it will also ring false to the reader or viewer.
INKTIP: Anything else you'd like to share?
AL: Stay true to yourself. Never try to copy someone else's style of writing. It will ring false. Develop your own style of writing and always avoid falling back on clichés. It may take a little longer to develop your own particular brand of writing, but it will come from the heart. If you believe in yourself and your talent, never give up. You will hear the word no many, many times, but it only takes one yes to open doors. You will never hear that yes if you abandon your dreams and talent. Perseverance is what makes writers.
You can watch American Violence on Netflix, Amazon Video, Google Play, Vudu, iTunes, and YouTube. It is also available on DVD and Blu-ray.