Fighting the Odds: Q&A with SHADOW FIGHTER Writer Lloyd Wagner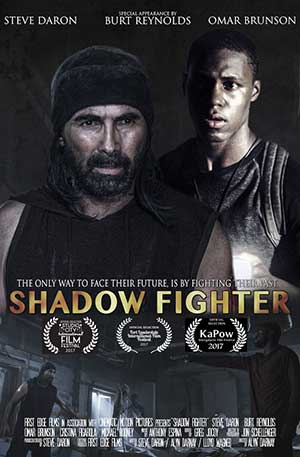 Shadow Fighter was written by InkTip writer Lloyd Wagner
We've all heard the old adage "it's not what you know, it's who you know." This can be daunting when trying to break into the film industry. Not everyone can be born into a film dynasty like the Coppolas, Sheens or Fondas. That's where InkTip comes in.
No matter how old you are, where you live or how many scripts you've written, InkTip makes it easy for screenwriters to grow their personal networks. Our site, Preferred Newsletter, and magazine make it easier than ever to get your script out there and into producers' hands. There's a reason 350 films have been made through scripts and writers made through InkTip—it works!
We were able to sit down with produced InkTip screenwriter Lloyd Wagner to discuss his writing career and his upcoming film Shadow Fighter. Lloyd started like many of us, full of enthusiasm but with no high profile Hollywood connections. However, Lloyd knew that with patience, hard work and InkTip's services, all his screenwriting dreams were attainable.
He was right! Lloyd connected with director Alyn Darney through InkTip and the rest is history. Shadow Fighter stars Steve Daron (Bus Driver) and Burt Reynolds (Smokey and the Bandit, Boogie Nights). The film is slated for a Spring 2018 release. See what Lloyd had to say:
InkTip: Tell us about yourself. Can you give us a quick bio? How did you get your start in screenwriting?
Currently 56 years old, I got into the screenwriting game late. Although I have always been a writer (news, interviews, YA novels....) I didn't try my hand at a screenplay until I was over 40 - well over 40.
My first attempt was an adaptation of Joseph Conrad's novel, The Secret Agent. It was suggested to me by an acquaintance that had just finished college, loved the story and thought it would make a great movie. I was intrigued by the broken timeline in the story which created a twist ending so I researched the proper format and wrote a screenplay. It wasn't great, but not bad either. It was only then that I found out my acquaintance had only read the Cliff Notes, not the entire novel!


InkTip: How did you hear about InkTip and how long have you been using our services?
I guess I have been listing my screenplays on InkTip for close to twelve years now. If memory serves correctly, I first heard mention of it on a writers chat/bulletin board.
InkTip has been great! I have made options, sales, and - most importantly - valuable connections by posting there.


InkTip: How did your relationship with Alyn Darnay develop? Any advice on how to establish a lasting relationship with producers?
Alyn had an interest in a script of mine and worked at getting it into production. During the course of that, we met and hit it off. He is a great guy and a talented director. That deal eventually fell through but Alyn vowed to stay in touch and find a way to work together. True to his word, Alyn kept in contact and we eventually collaborated on a story together. At the same time, Alyn was working with Steve Daron who had a project he was ready to fund. Alyn invited me to write the screenplay for that - Shadow Fighter.
The building and maintaining working relationships with directors and producers is a matter of communication - and that means listening as well as speaking. Modern filmmaking is truly a collaborative art and at the heart of collaboration is communication. Study the history of film just a little and you - the writer - will quickly see how many drafts, changes, and rewrites went into movies we know and admire.


InkTip: How did you, Alyn, and Steve Daron collaborate on the script? Is this the first writer for hire job you've had? How was this writing experience for you?
This particular collaboration was quite painless. Alyn provided me with Steve's core concept and notes, to which he added his own notes (mostly particular beats and imagery he, as director, was looking for). Working from that, and with a little back-and-forth on a few points, I wrote the screenplay. We all put a little polish on it and that was it. It was actually one of the quickest writes I've done to date.
This was not my first write for hire job for me. I have done several, some of which have made it to the screen. It's worth noting that my InkTip postings played a part in these as well. Many directors and producers read scripts not necessarily to produce that script but to find writers.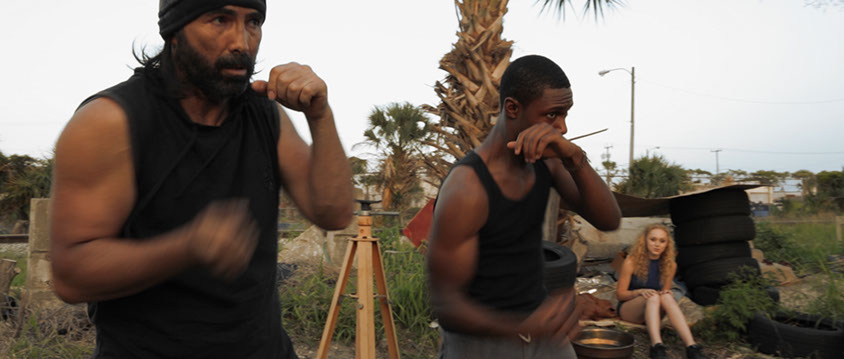 A homeless ex-boxer bonds with an inner-city kid in Shadow Fighter.
InkTip: You've mentioned that this was a pet project for Steve. What tips do you have for writers about collaborating on someone else's concept?
Again, this is all about communication. Try to find that core concept or theme to that person's idea and build upon it. Don't try to force it into your mold, build a mold together.


InkTip: What's one thing you wish you knew earlier in your career?
The value of connections in this industry. I cannot stress it enough.
When I wrote that first screenplay, based on The Secret Agent, I actually got a fairly well-placed film/literary agent not only to read it but also take a call with me to discuss it. In general, he liked the idea but cautioned about it not being high-concept and needing a big name attached in some capacity in order to gain traction. I thanked him for his input but deep down I felt he just "didn't get it" and was looking for an easier to sell product. Needless to say, as I learned more about screenwriting and how the industry works I wish I kept his number and sent him a card every year. I'd be his client today.


InkTip: Please tell us about your writing process. Do you have a writing routine? A specific way you approach a new script? How do you decide if an idea is worth pursuing and writing a script about?
I cannot claim to have any one process or approach to a writing project. About the only common thread I can point to is character. My writing is very much character based so until a character has their voice I tend to struggle. Once they find their voice we're off and running!
About the only way I can decide if an idea is worth pursuing is to start writing it and see if it comes to life.


InkTip: Anything else you'd like to share?
Not really, except for maybe "follow the rules." Format things properly, follow submission rules and guidelines, don't get too cute or clever. Screenwriting may be a creative endeavor but it is also a business.
Lloyd is currently writing a TV series on spec. A supernatural thriller/drama with its roots in Biblical prophecy.
Shadow Fighter will be released soon. You can watch the trailer here.