Q&A with Screenwriter Lisa Hagen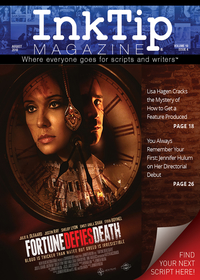 Some mysteries are never solved. Does Big Foot exist? Who shot JFK? Why do we always run into someone cute when we have stuff stuck in our teeth?
How to get a feature produced may seem like a mysterious endeavor, but it's really quite simple. To get your script produced you have to get producers to read it. That's it and it is absolutely doable. Producers are looking for scripts daily. They seriously want to make films as much as you do. And InkTip can help connect you with producers no matter where you live or where you are in your career.

Lisa Hagen is a writer who lives in Ontario, Canada, doesn't have any representation, and didn't have any produced credits…before InkTip. She joined InkTip in 2006 and has been making her scripts available to producers by listing scripts on InkTip's site and submitting directly to producers through InkTip's Preferred Newsletter. She did the hard work of writing and the equally important work of getting her scripts to producers and it paid off.

She connected with producer/director Jennifer Hulum on InkTip, which led to her first produced feature writing credit for Fortune Defies Death, a twisty and mysterious family drama. Jennifer was looking for a writer to hire for an existing project and turned to InkTip. She found one of Lisa's scripts and really liked it. She then asked Lisa and a handful of writers on InkTip to write a few scenes based on a treatment to find the best person for the writing gig. Lisa stood out due to her quick turn around and smart and funny dialogue. Lisa was officially brought on board and wrote the script for Fortune Defies Death.

The film premiered at the Hollywood Reel Independent Film Festival in Los Angeles this past February and is set for a theatrical release in late fall of this year. Lisa says, "This murder mystery film is doing the festival circuit right now and has been picked up for distribution. It is very cool to see my words, formerly only seen on the movie screen in my brain, spoken onscreen."

Lisa also recently optioned a second script through InkTip. Her script "Dancing on the Elephant" was optioned by Jacob Smith with Old North and producing partner Julia Myers with GreenRobe Productions. Lisa took some time to share her experience and writing tips with InkTip.
InkTip: How did you get your start in screenwriting?
Lisa: I have been writing professionally for most of my adult life. First in advertising, then corporate video, newspapers, magazines, and then slowly morphing into screenplays and stage plays. I also have a degree in classical music so I throw in composing, conducting and directing musical theatre into the creative mix and see what bubbles up. I really see a connection between all of them and it gives a big-time holistic approach to my writing. Not only am I seeing the story in my head as I'm writing it, but I'm hearing the soundtrack and directing the actors to boot!
InkTip: How did you hear about InkTip and how long have you been using our services?
Lisa: I've been with InkTip since the early days. I may be writer #1 on the site. I've been around that long! I have stuck with InkTip because I love the baseball card way of shopping for a script -'got it, got it, need it.' The efficiency for both producers and writers is very appealing.

I've been fortunate to have two scripts produced or in production both through InkTip. One is an original script and the other a writer for hire situation. Coincidentally, they have both been contained location stories, which has been a huge plus for me. It has allowed me to understand the process and gave me the experience to grow into some larger-scale scripts that I am writing now.
InkTip: What's your experience with InkTip been like?
Lisa: Something I've noticed with InkTip producers is that they have all been very keen on getting a movie made. There doesn't seem to be a lot of tire kicking when I send a script in. I get either a yay or a nay, no gray areas. And when it has been a yes, the producers are very motivated and ready to jump into action. That is comforting to know that the script is not tied up in an option too long before production. Again, I credit the natural vetting system on InkTip.
InkTip: You were hired to write Fortune Defies Death. How do you approach a hired assignment differently than your own scripts?
Lisa: Writing for hire is like the advertising copy that I write except a lot more creative. I always kept in mind that Jennifer was the client and had a clear vision of what she wanted-much like advertising. Of course, when I write my own scripts, the sky is the limit in terms of which direction the story will take.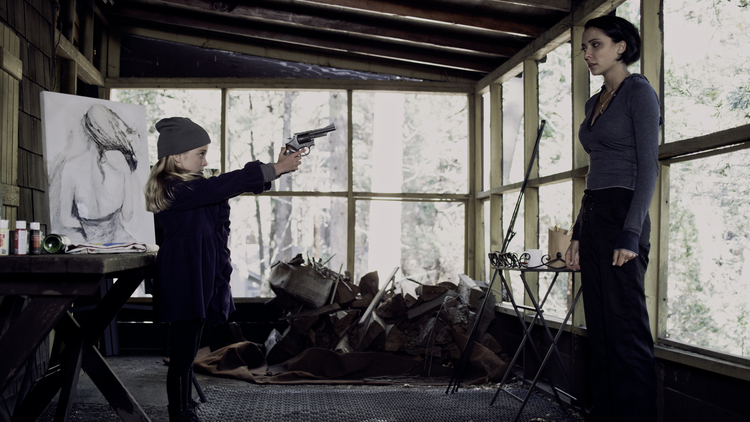 InkTip: I see you have another InkTip success in production. Tell us about it.
Lisa: The one connection through InkTip is currently in production with director Julia Myers and producer Jacob Smith. It is called "Dancing on the Elephant" and is about two crusty, old women trying to escape their retirement home. We are aiming for a 2019 release.
"Dancing on the Elephant" is a comedy-drama. Comedies and dramas seem to be my forte so it seemed like a good idea to combine both. Nothing like busting a gut one moment than having a good cry the next.
InkTip: What else are you working on?
Lisa: I also like reality-based, sci-fi, and I'm big on bio-pics and historical pieces. I am currently working on a true story about a slave ship that wrecked on a coral island and only the women survived for 15 years until rescue. The research is fascinating and has me obsessing out on it a bit these days. I think this one will need an agent to help me shop it around to large companies. But again, I don't think I would have the expertise to write a large story without doing the single location ones first.
InkTip: What was the first script you wrote?
Lisa: My very first kick at scriptwriting was this epic, multi-location, multi-character, special effects thing that is still sitting on my shelf today. It was fun to write but then I calmed myself down and decided to track what was going on through InkTip in the real world and then write accordingly. I am happy to write to order when someone has a project. I think it shows strength of writing if you can flesh out someone else's idea.
Writing screenplays seems to be a lot like doing a jigsaw puzzle with all the logistics of a story having to fit into place. I'm a pit bull for making outlines and drawing maps to make sure all the pieces fit and then I love the challenge of the re-writes when someone wants to put a new piece in and I have to figure out how that new piece will fit.
InkTip: Please tell us about your writing process. Do you have a writing routine?
Lisa: I once met a screenwriter at a festival who held a very high-up job in government. She personally worked for and knew about 3 U.S. presidents. I asked her where she found time to write screenplays and she told me she got up at 3am every day and wrote until 6am before getting ready for work and catching a train into the city for presumably a 10 hour day. Yeah, that's not me. I get pumped when I find an idea that I fall in love with and then I do writing bursts. The hours fly by at that point because I'm so in love with the idea that it becomes a pleasure to sweat over every little detail, jigging, and re-jigging. I could go back and visit with the little old ladies in "Dancing on the Elephant" again and again because they are so much fun. Likewise, with the new script about the slave ship-wreck. I pine to get back at it because I want to know what is going to happen next. You think I would know what happens next but not always.
InkTip: I see you're also a playwright. What's the biggest difference between writing for theater and writing for the screen?
Lisa: I also write for theatre which is a nice complement to screenwriting. There is a lot of crossover in terms of scene flow, dialogue, and character arcs. The biggest difference between the two would be the focus on action in film versus words and dialogue onstage.