Going Loud with His First Credit - Q&A with Screenwriter Sean Mick
Sean Mick's always had a love of the movies. As a kid, he dreamed of being a stuntman or an actor, and as an adult, he found a love of writing that has led him to the silver screen. He's come a long way from sitting with his dad at the movies, dreaming of making it big. This year, he got his first feature credit when his script Silencer was found and produced.
Originally from the San Francisco Bay area, Sean Mick studied film at Sonoma State University in Northern California. Citing Sylvester Stallone and his tenacity to make Rocky, Sean viewed screenwriting as a launch pad to directing. He first encountered InkTip when an earlier draft of Silencer won the Gold Prize in the PAGE International Screenwriting Awards which included an InkTip listing. He's been using InkTip ever since.
Sean wrote Silencer, an action script, and listed it on InkTip. It wasn't long before Lauren de Normandie and Timothy Woodward Jr. of Status Media and Entertainment found his script on InkTip and optioned it. Silencer was the right script for their slate and is now a produced film starring Johnny Messner (Running Scared), Danny Trejo (Machete), Robert LaSardo (The Mule), and Nikki Leigh (NCIS). Silencer is currently available on Netflix, Amazon, Vudu, and more.
Now based out of Carson City, Sean took a break from screenwriting and his family to talk to InkTip about Silencer and his love for action films.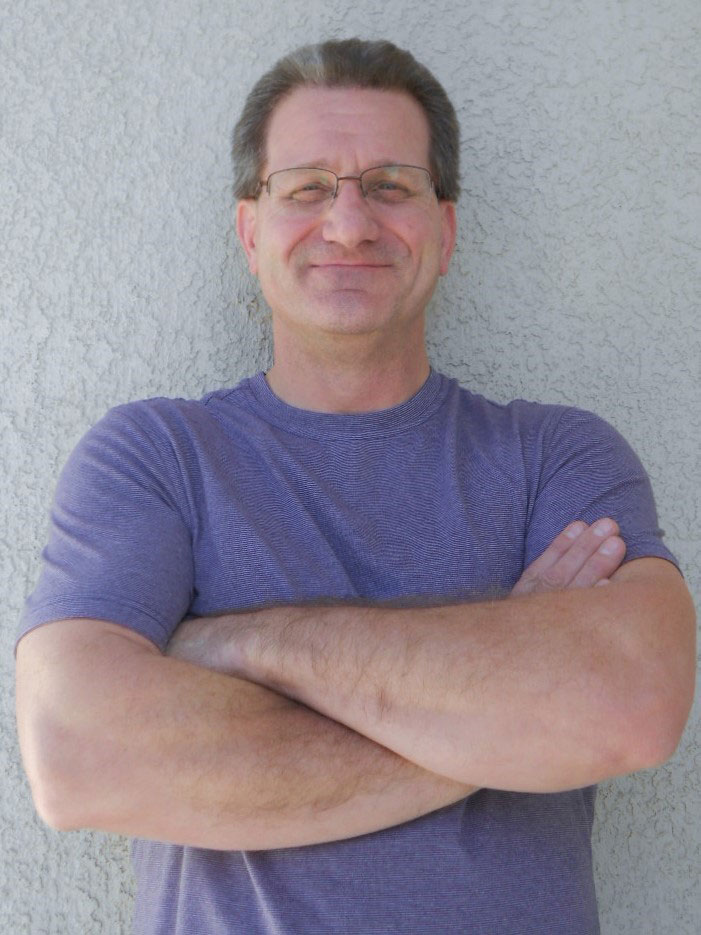 Sean Mick
InkTip: Tell us about yourself. How did you get your start in screenwriting?
I originally grew up in the San Francisco Bay Area. I later moved to Northern California near Santa Rosa where I studied film at Sonoma State University in Rohnert Park. I relocated to Nevada in my 20's, where I met my wife and started a family.
I'm a huge movie nut; practically grew up at the drive-in theater. My dad would take us every week. We'd see anything and everything. As a kid, I wanted to be a stuntman—then an actor (which I completely sucked at!), then started making little films, so I decided to be a director. My financial resources were pretty limited at the time—the film program at Sonoma State was cheap but very small—and I couldn't afford film school. I kind of floundered around a bit, but then came across an interview with Sylvester Stallone where he told the story of how he broke in with his script for Rocky.
It was a big inspiration, the way he hung in there. I had some experience with writing. I had always done well in English and Creative Writing in school; had written some short stories and skits, articles for the school paper, etc. And it hit me: writing might be my ticket in. So, I started reading scripts, found some good books (the late William Goldman was another inspiration), and started writing my own.
InkTip: How did you hear about InkTip?
I discovered InkTip when an early version of Silencer took the Gold Prize for Action/Adventure in the Page International Screenwriting Awards. Listings on InkTip were part of the prize. I've used the site off and on for about 10 years.
InkTip: What was the experience like winning a contest?
It was a blast! I still have my framed certificate on my office wall. It was the first time I ever got paid for something that I wrote. The cash prize wasn't "quit your day job" money by any means, but it paid for a new computer. Being recognized for something that I had created is what made it really special. And it introduced me to InkTip, which was huge as it turns out.
InkTip: Where did you originally get your idea for Silencer? How did it evolve?
I had read a story about a famous gangster whose child was killed in an accident and the person responsible later just sort of disappeared. I'd already been kicking around an idea about a hit man (pre-John Wick, I might add!) and the two just sort of came together.
The original script was much longer with a lot more character background than what became the final film. In fact, there was a whole subplot that I cut that could be its own movie and is on my project list.
InkTip: How did you and Status Media & Ent. first connect?
Lauren de Normandie from Status Media Ent. found my script on the InkTip site and got in touch. I spoke with her and director Timothy Woodward, Jr. They loved the script, took out the option and, ultimately, made the film.
InkTip: What was it about your script that made it stand out?
They do a lot of action movies, and I think the style was right in their wheelhouse. My original script was very tough, gritty, and lean; big action set pieces but with strong characters. Unfortunately, some of the bigger battles, chases, and some character stuff had to be cut or reworked due to the budget. The essence of the piece is all there.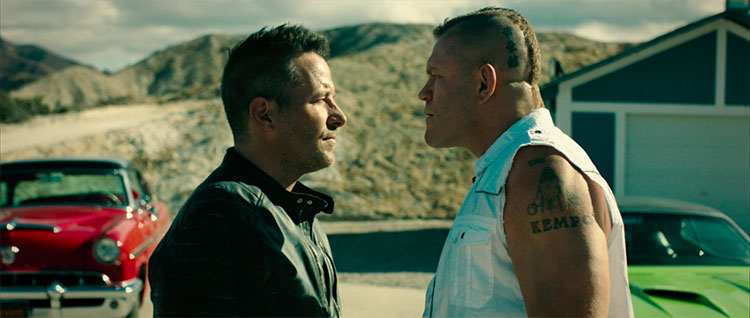 A tense exchange between Frank (Johnny Messner) and Nelson (Chuck Liddell).
InkTip: Walk us through your experience with this project.
Everything was pretty straightforward. We did the option with the thought that it would be their next production—but it took longer to get the financing in place than they originally anticipated. We did end up doing an extension on the option so they could hang on to the script until everything was finalized and we made the sale.
After that, they took the ball and ran with it. I didn't do any rewrites. The director handled that—mostly condensing the story and the physical size of the piece to conform to the budget available. I had an airplane, skydiving, a chase on the L.A. freeway, blew up a whole village in Mexico. None of that made it into the film which was kind of a bummer. On the other hand, Timothy and Johnny Messner (the star) made some nice additions—the war prologue and the main characters attending AA meetings—that I thought worked really well. And it was a lot of fun to watch the finished film at the premiere and see a lot of my scenes unfold word for word the way I wrote them! Seeing my name in the credits was pretty cool too.

InkTip: What drew you to the action-thriller genre? Is it your favorite genre to write?
I love all genres, especially Westerns and Horror, and I've got a real soft spot for multi-character romcoms (I watch Love Actually every Christmas!), but I've always been a nut for action-adventure and action-thrillers.
It's that vicarious thrill; watching James Bond or John Wick fight against impossible odds to save the girl, save the world, or, sometimes, just save themselves. Some people think that dialogue is character, but it's action that truly reveals character. People aren't always who they say they are, but people are what they do. The action film is the perfect vehicle for that.
InkTip: Do you have a favorite film or one that has greatly influenced your writing?
The Wild Bunch is one of the great American films. The way Sam Peckinpah gets you to invest in this gang of really horrible characters and takes you on their journey to death and redemption—amazing. The shoot-outs, the march at the end—just masterful filmmaking. And I defy anyone to film a better scene than Pike Bishop alone with the bottle and the young girl as he ponders his life, his failure to live up to his code. The whole movie comes down to this scene—and there isn't a line anywhere. It's there in the staging, William Holden's fantastic performance, and the tone. Then, it all comes down to "Let's go."
Another big influence is Michael Mann—not just his visual style, but the way he writes. Thief is a classic—criminally underrated (no pun intended) with an amazing character in Frank and an Oscar-worthy performance by James Caan. Heat is another classic. And there is no more pure expression of an action hero than Hawkeye in Last of the Mohicans.
InkTip: Please tell us about your writing process.
I'm a morning writer mostly. I get up early, grab a cup of Joe, and hit the computer. I'm very methodical and do a LOT of rewriting. I start a new project with handwritten notes, scribbles, etc. Then, a basic outline. I try to knock out my first draft as quickly as possible. It's always way overwritten—I like to throw in everything, including the kitchen sink, then polish and hone.
Like Bruce Lee once said: "In building a statue, a sculptor doesn't keep adding clay to his subject. Actually, he keeps chiseling away at the nonessentials until the truth of his creation is revealed without obstruction." The first draft is that initial blob of clay; the rewriting is the chiseling away.
By the way, I hate first drafts—blank pages are hard to face at five o'clock in the morning. It's the rewriting that I really love. Once I have something to work with, then the fun begins.
I start each writing session by jumping back about five or so pages from wherever I left off. I read those pages over, polish a little as I go until I get in the groove. Then, I move forward until it's quitting time. I write every day—even if it's only twenty minutes. Every morning before work. On my days off, if I don't have anything else going on, I'll put in eight to ten hours at the keyboard (taking time out for meals, of course!).
Also, I must have music to write. I have my entire 900 disc CD collection on my computer (lots of soundtracks), and I'll find one main song that fits the story. Then, I build a 2-hour "soundtrack" playlist for my script that I play it while I write.
I'm also a big fan of the voice feature in Final Draft. I cast the characters, listen to the script being read aloud (sometimes with my soundtrack in the background) as a way to "watch" the movie in my head. Hearing the script out loud helps with the rewriting a lot—especially with dialogue.
InkTip: Any advice for writers?
As a sage once said: The art of writing is the art of applying one's ass to the seat of the one's chair. You can't get it done if you don't show up. Get notes from someone you trust, rewrite, and then rewrite it again.
And keep in mind that it's a lot like poker; it takes skill, but luck is a factor as well. You have to be able to play the cards. But you can't win the hand if you don't have the cards to begin with.
InkTip: What's next for you in your writing career?
Hopefully more films! I'm working with a producer right now. He's shopping one of my scripts around (Resurrection Run – another action thriller that took 3rd place in the PAGE International Screenwriting Awards) trying to find a director and put a package together. I've got a western titled that Status Media Ent. is reading, and I'm working on a new script (more action!) called No Mercy that's coming along well.
I've also been helping out some fellow writers in my area—giving notes, etc. and will be teaching a class for beginning screenwriters at our local arts center—so I'm keeping busy!
Meanwhile, I punch the clock at work and take care of my family. Silencer was a fantastic experience, but life goes on, and bills have to be paid. I haven't made it to the level of "quit your day job" yet, but I'm sure as hell working on it!