Trimming the Fat: Q&A with Producer Christopher Sergi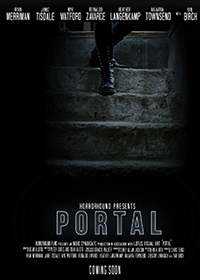 Producer Christopher Sergi didn't get his start at film school. Instead, he found himself driving cross-country from Boston to Los Angeles in the middle of a quarter life crisis searching for a new career. He took every job he could in Hollywood, working seven day weeks, learning all about the film industry until someone mistook him for the producer. "[That's] when I took it seriously and started pushing my career specifically into that direction," Christopher said.
Since then, he has worked with director Rockmond Dunbar on Pastor Brown starring Michael B. Jordan (Creed, Black Panther), Jada Pinkett-Smith (Gotham), as well as Emmy-Award Winner Joseph Pantoliano (The Sopranos, Bad Boys 1-3), Elaine Hendrix (Sex&Drugs&Rock&Roll, The Parent Trap), and Rockmond Dunbar (Prison Break, Sons of Anarchy). Recently, he executive produced the dark thriller, I'm Just F*cking With You with Blumhouse (Get Out, Split), that made its world premiere at the 2019 SXSW Film Festival before releasing wide via Hulu.
He is now in post-production on the InkTip-sourced script Portal starring Ryan Merriman, Jamie Tisdale, Myk Watford, Heather Langenkamp, Najarra Townsend, and Reinaldo Zavarce and written by Peter Dukes with director Dean Alioto.
Christopher has a no-nonsense approach to producing and shared his wisdom with InkTip for what both writers and scripts need in this industry.
InkTip: How did you find the script Portal?
Christopher: I started collaborating with Horror Hound. If you aren't familiar with them, they are a huge horror conglomerate and brand in this world. They were just named in the top 10 out of 7000+ conventions, worldwide, regardless of genre. With them, it only makes sense they start creating original content. We set out a plan to start of small and grow the brand. With our first targeted slate of films, we set very conservative and basic perimeters. I put a call to action [in the InkTip Newsletter] of what I needed. Based on that, it was a very thorough process. I think we only made it through 10 percent of the submissions since we read hundreds within a few weeks.
InkTip: How was working with Peter Dukes?
Christopher: Peter is great. He's really easy to work with. He is a very talented writer, and I think it's pretty clear if you are tracking him, people are taking notice. His writing is very clear and flows. That is important. If I have to stop and really focus and read a page over and over again to grasp the context of what's happening, that is no go. Someone like Peter knows how to keep the story going and where to cut the fat. He's very collaborative as well and with no ego. This is the reason I will produce more of his projects in the near future. He also writes really fast!
InkTip: Besides a good script what makes you want to work with a writer again?
Christopher: Collaborative, ego-less, open to creative input, and realistic expectations.
InkTip: What do you think was the strongest element of the film?
Christopher: The cast. They came to play at level 100. This was the hardest project to pull off in my whole career to date. We shot all overnights, six days a week, and these actors would be on set for 12-16 hours. It was bananas. I was so lucky to be able to get these actors come in and do it. Especially for the ones I didn't have a pre-existing relationship with. Also, I was able to pull my dear friend, Heather Langenkamp, out of acting retirement for more than just a cameo.
InkTip: What is your favorite part of creating a film?
Christopher: I love the development, the seeds of it coming together. I also like the casting since you can start giving these voices on a page a physical manifestation. It can be really mind-blowing sometimes.
InkTip: As a producer, what do you look for in a script?
Christopher: I don't look for scripts that are necessarily reinventing the wheel, especially if it's a low budget/ indie project. When it comes to genre projects, for instance, you can only split the pie in so many directions. So it's not always about having that "twist ending" but it's about the execution, the tone, the characters' arcs and so on. I feel like a lot of times when I'm asked to speak or consult with writers who have never been produced, they think they have to come out of the gate with an "opus" to make their mark in the industry and launch their career. In my opinion, I feel writers could trap themselves or sabotage their own potential.
InkTip: What advice would you give writers who are looking to get their scripts produced?
Christopher: Filmmaking is now accessible to everyone. If you want to get something produced, do it yourself. Produce stuff even if it's on a paper clip and bubblegum budget. Make stuff, make stuff, make stuff!! Don't wait for the "big" payday or script buy from a studio to be what determines your first project getting produced. Unless you can benefit from nepotism or super "connected folks," your previous bodies of work are how people you are trying to work with will be able to grasp your skills, vision, etc.
InkTip: What advice do you wish you'd gotten earlier in your career?
Christopher: Don't be someone who steps on people to get a leg up, but also realize your career choices shouldn't be based on personal friendships.
InkTip: What is next for you?
Christopher: I'm just finalizing some stuff on the first original series for Essence. It's a queer-women-of-color-series. It has an amazing cast, and it's so much drama! But in a fun way. It's a really interesting format, so I can't wait for people to see it. More details will be announced this summer. I am also working on finalizing financing on this passion project of mine from this great writer/director I met through a development executive/producer we both mutually know. I'm dying to make this movie. It's a slow burn and it's so f***ing creepy. The two main characters need to really carry every ounce of this film, so it's going to be scary but an emotional roller coaster for the actors.