Roundtable with 5th Ward Writers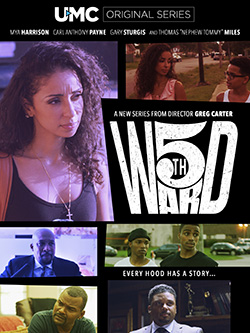 The 2nd season will be available around the summer.
The gritty TV series 5th Ward takes a hard look at life in Houston's most violent neighborhood. From immigrants trying to build a life in America to gang violence on the streets to the politics that perpetuate the poverty, the series aired its first season on UMC (Urban Movie Channel) in 2018. The second season will be released in late spring/early summer.
The show was created by Greg Carter, who found a strong team to bring his vision to life on paper. The "writers room," which is spread across the country, includes Julie Anne Wight, Richard Dane Scott, Christy Lavalais, Joseph A. Elmore, Jr., and Fowzi Abdelsamad. Julie Anne, Richard, and Christy are all InkTip writers.
Julie Anne Wight attended Central Michigan University, majoring in Broadcast & Cinematic Arts. She wrote, directed, edited, and produced her first TV series (Aesculapia) for the campus television station. She went one to get an MFA in Film at Florida State University. She's written over 40 children's books for the children's iPad reading app, FarFaria, worked in development, served as a script consultant for Script Pipeline, and taught screenwriting and writing for TV in the Creative Writing MFA program at Full Sail University.
Richard Dane Scott has been writing screenplays for 20 years but claims only good ones for the last 10. He's had seven produced features, four others under option, and recently self-published his second novel.
Currently residing in Chicago, Christy Lavalais studied screenwriting and film in college, but it was her time living in Los Angeles that honed her skills for television writing.
I'm very excited to talk to this team about their experience writing for 5th Ward and the advice they have for other writers looking to break into the industry.
Chris: When you heard Greg's idea for 5th Ward, what attracted you to the show?
Richard: First and foremost, the diversity. Being Japanese-American myself and being married to a Latina, I enjoyed writing for the diverse cast of characters that included Asians, Latinos, and African-Americans. And since I'm from San Antonio and have visited Houston quite often, I also already felt a connection with the region. And lastly, my favorite filmmaker is Quentin Tarantino. I know Greg is also influenced by some of his work and looked forward to diving into a world of gritty crime and corrupt politicians.
Julie Anne: It honestly didn't matter too much to me what the show was about because I was amped to work with Greg again and to get my first experience writing on a TV series.
Christy: I had worked with Greg before and was interested in doing so again. The idea of being a part of a virtual writer's room seemed unique as well.
Chris: Were there any challenges working on a show with a writer's room spread across the country?
Julie Anne: Not really. Everyone stayed really accessible to one another. The larger challenge was us writing our episodes simultaneously. We didn't operate like a traditional writers' room in that we didn't break the story together. Greg knew what he wanted, we discussed it as a group, then pitched for what episodes and storylines spoke to us the most, got our assignments, and went on our way outlining and writing our episodes.
Christy: There were some challenges. Continuity was a concern, but we tried to make it a priority and each writer communicated with the writer who was writing the episode before and after theirs in order to avoid errors.
Richard: Since I've never been in a different writer's room otherwise, I couldn't really compare. But I thought it was a fairly smooth process. Greg was involved with every step and painstakingly made sure his vision was translated on the page with each of us and our episodes.
Chris: The characters stick with viewers after the episodes are over. How did you flesh out the characters to leave audiences thinking about them?
Christy: Most of the characters came fully formed from a previous work of Greg's that he adapted into this show. Once you carry those characters over, it becomes about relationships.
Richard: You always have to make sure that your characters are relatable. Whether they're the heroes or villains, an audience needs to feel empathy for a character. That's how they connect on an emotional level and how it can resonate long after. That was the key to developing characters for the show. Their motivations had to be derived from a relatable source, engaging and forcing the audience to side with certain characters because of their own experiences.
Chris: Who is your favorite character to write for on the show?
Richard: I enjoyed writing Jazmine and Ray Ray since they are the star-crossed lovers of the show. Mayor Coletti is also fun and easy to write knowing he's being portrayed by Lew Temple.
Julie Anne: I really enjoyed writing the Greg Sones character. While the other characters stay pretty serious, I got to have a lot of fun writing him.
Christy: Mina. She will do anything for her children.
Chris: Is there a particular scene you wrote in the show that you are the most proud of?
Christy: There is a scene in season 1 where Robert and Ray Ray are having a conversation. On the surface they are talking about James's artwork, but really they are talking about Ray Ray's potential. It was a nice scene between an uncle and nephew where he almost gets through to him, before the streets come and snatches him away again.
Richard: For Season 1, (spoiler alert) I certainly enjoyed writing the climactic shoot-out towards the end of the final episode. Knowing that it was the culmination of various events that lead to teasers and cliffhangers for Season 2, there was a large responsibility to ensure it was done right.
Chris: Do you have any advice for writers looking to break into television?
Richard: For breaking into television, it is crucial to hone your social skills. Writing is often a lonely practice and many of us write because we are somewhat recluses living within our own imagination. But to be a part of a writer's room, you have to present yourself as a professional, open to sharing ideas, and being collaborative over a long period of time.
Julie Anne: It's all about relationships—building them and nurturing them. It also helps to nurture your niche knowledge of things outside of the craft of writing. Maybe it's your true-crime obsession, that degree in theoretical physics you thought you'd never use, or your deep commitment to Sparkle Motion. This will give you unique angles to bring to your work and to a room.
Christy: Network and keep writing. You'll never know whom you may meet, but you have to be ready when you meet the right person.
Chris: What other projects are you working on?
Julie Anne: I optioned a feature comedy and am working on a rewrite for a production company, I'm about to take out an original web series with a team of writers who helped me break the first season, and developing other pilots and features.
Christy: Right now, I'm in development on an independent feature film that I wrote and I plan to direct this year called Retribution. The crowd-funding campaign starts next month and all details can be found at my website, LavallaisPictures.com.
Richard: I've done a complete 180 from 5th Ward and started writing Hallmark Christmas films. In the past year, I've had three optioned (one through InkTip). I also have a new feature called No Time to Run slated for release at the end of summer. And I'm self-publishing my own adult vampire series which has had moderate success thus far.
Chris: How has InkTip helped your writing career?
Christy: It gave me exposure I wouldn't have gotten anywhere else.
Richard: Over the years, InkTip has led to open assignments, options, representation, and I've even sold a handful of short screenplays. It continues to connect me to hungry producers and helps foster relationships that last even outside of the first query.
Julie Anne: It helped introduce Greg to my writing, and the rest is history.