Bridging the Gap: Taking an Old Genre to New Lands with Producer Michael Mahal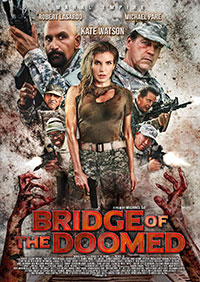 Finding an innovative spin on genre movies isn't easy. For zombie films, it is near impossible with the recent resurgence in all things undead. From The Walking Dead to iZombie, almost everything brains related has been done, which is why producer Michael Mahal was so intrigued when he came across Adrian Milnes's fresh take on the zombie story. Bridge of the Doomed centers around a military unit's call to action and stars Kate Watson, Michael Paré, and Robert LaSardo. The film will be released world-wide December 2020. Michael, a New York Film Academy graduate, and a producer/director with over eight feature film credits, talked to us about Bridge of the Doomed.


Chris Cookson: You've been using InkTip's service for over a year now. As a filmmaker, what do you like about us?

Michael Mahal: I like the fact you can go online and type in a genre, budget, etc. And InkTip gives you a great selection of scripts to choose from. Finding a script is sometimes the hardest part of the filmmaking process. InkTip makes it quick and easy.

Chris: You've written a number of the films you produced. Why did you turn to us for material?

Michael: Writing a script takes several months and sometimes developing a script from scratch isn't a good option either. When you develop a script from scratch, it's hit or miss. When you read thousands of scripts and loglines from InkTip, you get way more options to choose from.

Chris: You discovered Bridge of the Doomed script while searching on our site. What about Adrian Milnes's script stood out to you?

Michael: I was looking for something new, exciting, and fresh in the horror genre. I loved Adrian's zombie script, and I knew it had to be made.

Chris: How was working with Adrian?

Michael: Working with Adrian was a real pleasure. As a producer, I want changes in the script, and he was very easy to work with. We hired him again immediately to write Bloodthirst, a vampire film starring Tara Reid, Costas Mandylor, and Robert LaSardo.

Chris: What do you feel Bridge of the Doomed brings to the zombie genre?

Michael: I believe Adrian wrote a very original zombie script. In most zombie films, the army is always blamed for the zombie outbreak. In this movie, the army are the heroes of the film.

Chris: What do you think was the strongest element of the film?

Michael: I think Adrian's script with great zombie prosthetics, practical FX, and cinematography took this film to another level. The locations were great.

Chris: What challenges did you face in producing Bridge of the Doomed?

Michael: We shot in really remote locations and things would often break. We were filming three or four hours away from civilization and many things had to be driven in including three hummers and many other army vehicles. We also had to fly in talent and other investors from all over the world in a small town called Caliente, NV.

Chris: What do you think is the most important skill for a writer to develop?

Michael: I think it's the ability to market themselves. There are many good writers but few know how to market themselves. InkTip is a great way for writers to get exposure and get connected to producers.

Chris: What advice would you give writers who are looking to get their scripts produced?

Michael: Talk to as many producers as you can and send your script out. Producers are ultimately the ones that raise the money and green light project.

Chris: What is next for you?

Michael: We just started filming another movie called Numbers with Michael Madsen and Costas Mandylor. We are also in the process of shooting Adrian's script Bloodthirst.