Director Nick Lyon found a weapon. One he's used before. One that morphs into various forms, yet one that does something more consistently than anyone else these days: kick ass. That weapon is Danny Trejo.
Lyon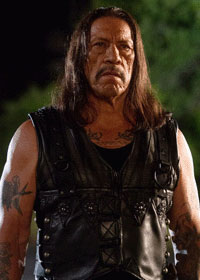 originally directed the "Machete" star in The Asylum's "Rise of the Zombies" (Ethan Suplee, LeVar Burton, Mariel Hemingway). Since then, Trejo's characters have continually destroyed drug cartels, assaulted assassins and even met Muppets. But for now, he's transitioning to the title character of Frank "Bullet" Marasco in Lyon's picture, now available at retailers and on Amazon.com.
The script for "Bullet" was originally co-written by Lyon and Byron Lester. The director/producer found Lester on InkTip after reading his spec scripts. Subsequent writers came on board the gritty pic, including Ron Peer and Matthew Joynes. The fim is pending a director's cut release.
Locking in Trejo, one of the busiest actors in Hollywood after a whirlwind year in which he starred in over a dozen projects, seemed to also lock in the ever-growing fan base of the L.A.-born self-confessed former drug addict and criminal, who over his film career has fought onscreen with and against action veterans such as Mel Gibson, Jean-Claude Van Damme, Nicolas Cage, Steven Seagal and Ving Rhames, as well as acted alongside dramatic heavyweights, including Johnny Depp, George Clooney, Robert DeNiro, Adrian Brody and John Malkovich. Fortunately for Lyon and the prospects of "Bullet," Trejo's star should only continue to rise. In fact, a small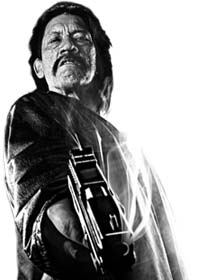 portion of the marketing budget was crowd-sourced through Kickstarter, with the top funding donation pledge amount offering a perk where one lucky fan will get "shot, hacked or beaten to death by Danny Trejo."

Sales for "Bullet" are being handled by SC Films International, which previously sold the 2013 Trejo actioner "Bad Ass." Producers include Robert Rodriguez, Joynes and Lyon.
On the horizon for Lyon are a few projects already underway. He recently directed the sci-fi movie "Dark Rising," starring Linda Hamilton and Jamie Kennedy. Says Lyon, "I tend to look for a great concept first, because without that, even the best writing can't make a film commercially viable."
Trejo's momentum, meanwhile, surges forward. Up next for the human wrecking machine is a multitude of projects, including not only the actioner "Force of Execution" with Seagal and Rhames, but also family-friendly and broad-audience projects like the next "Muppets" installment. Perhaps that broader "softer side" appeal comes not as a surprise to some, as he's grown a reputation for being one of the "nicest guys in Hollywood," contributing hours for various organizations that assist at-risk youth, dogs, and people with Autism. But make no mistake: being the ultimate weapon and taking out bad guys (or, occasionally good guys) is what he does best.
So if you're making your next movie and lucky enough to cast the burning-hot weapon of mass destruction, your audience projections stand a good chance of already being on target.