Look down the road and you'll spot a "Megalopolis" being built by talented, experienced hands. In fact, the foundation is already laid down.
Mpower optioned the ambitiously-named script, written by Moutaz Jad, who won the Fresh
Voices Screenwriting Competition for the sci-fi thriller.
Discovered through InkTip by Creative Executive Patrick Hibler, the project is described as being set in a "future corporate utopia," where "two city cops investigate a political assassination by a rogue android that should never have been built."
But before envisioning the utopian future, one should look back to Toronto to see the groundwork of success Mpower formed. The Toronto International Film Festival, in particular, has been kind to them in previous years. In 2006, their film "Bella," which gained a sizable audience compared to its modest budget, won the People's Choice Award in Toronto. In 2008, Mpower then produced "The Stoning of Soraya M." (Jim Caviezel), which was awarded runner-up for the Audience Choice Award.
Just as the latter project used international locations, so did Mpower when it came to finding a writer. According to Fresh Voices, Moutaz was living in Saudi Arabia when Hibler contacted him via phone. Hibler expressed interest in the script, and the writer then "jumped on a plane to Los Angeles within a week of the phone call,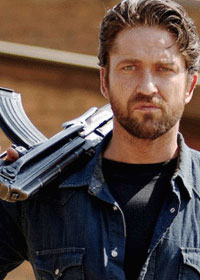 met Patrick [Hibler] and the principals of the company, and returned home days later with an agreement in hand."
The ambition and talent involved in the careers of Mpower's founders may explain may offer reasonexplain why Moutaz jumped to sign the contract. The company, which was founded by David Segal, Steve McEveety ("Braveheart," "What Women Want," "Passion of the Christ,") and John Shepherd (former executive with Dreamworks), was formed to "empower the audience, profoundly impact culture, and entertain." Before Mpower, McEveety produced projects starring actors such as Mel Gibson, Samuel L. Jackson, Gary Oldman, Maria Bello, and Greg Kinnear, among others.
Mpower's last film, 2011's "Machine Gun Preacher," starred Gerard Butler ("300," "Olympus Has Fallen,"), Michelle Monaghan ("True Detective," "Source Code") and Oscar-nominated Michael Shannon ("Man of Steel," "Boardwalk Empire"). The biographical action/drama, directed by Marc Forster ("World War Z," "Quantum of Solace,"), focuses on the true story of former gang biker Sam Childers, who reformed his life to build a future for victims in Uganda and Sudan. Although the film underperformed at the box office, the story's message of believing in hope for tomorrow was very clear.
For Mpower, building on yesterday's success by believing in hope may not come overnight. Yet despite that Rome wasn't built in a day, tomorrow's "Megalopolis" already has a sizable foundation.