From Lifetime to X-Men: An Interview with Kraig Wenman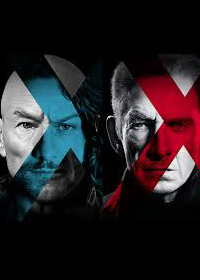 X-Men: Days of Future Past
If you've read the weekly InkTip success stories over the years, you've noticed Kraig Wenman's name mentioned multiple times. Kraig's a Canadian screenwriter who has written everything from, as he put it, "dick jokes" to "crazy neighbor stories."

In an interview on writer Ashley Meyers' podcast show, Selling Your Screenplay, Kraig breaks down how he began his writing career on InkTip, and what he did that eventually led to 16 produced feature films and working with a producer from the X-Men and Transformers franchises.

After watching the interview, we took away four of those actions that Kraig took. The video is below.
1) Focus on one job, hone one skill
After graduating from film school, Kraig shot corporate videos and music videos and did a variety of industry jobs. His girlfriend at the time suggested he stick to one type of job instead of trying to do everything in the industry.

Kraig took that to heart and focused on one job: writing. He wrote daily for one year and built up his writing skills and portfolio of spec scripts. Like most writers, Kraig wrote a first script that was not very good and unfit to market. After writing a couple of more scripts, the practice paid off. Now that his scripts were ready to market, he posted some on InkTip. That led to his first option – and his first writing assignment – all because he put time and energy into developing his best craft (writing) and skill (lower-budget thrillers).



2) Follow Up and Be Nice

Kraig has sold or optioned 40+ scripts over the past 8 years. Impressive – but most of them fell through. That's the reality of the business – many more scripts are sold or optioned than produced (Kraig has over 15 feature credits to his name). This doesn't count the numerous submission queries Kraig sent that producers passed on. Yet instead of feeling dejected after producers passed on a script or query, or if a project fell through, Kraig made sure to stay in touch with those producers over the years. Staying in the loop with them meant new opportunities arose. In fact, many of his writing assignments and connections happened after meeting producers through other producers and so on. In one example, a producer who had read his scripts on InkTip several years prior passed on them but told Kraig to stay in touch. He eventually became a manager, however, and then signed Kraig as a client.

We've written about following up with producers before. Don't overwhelm people by sending too many emails. Just check in every now and then. Keep your emails short (no life stories!) and make sure to ask them how their projects are progressing. People respond better to givers not to takers. For example, if you learn from IMDb that a producer has made a new movie that's been released, consider checking the movie out and dropping them a line to congratulate them.

What if you meet someone in person for the first time at an event or party? Kraig says to "just be nice. Don't be phony...Find common ground with them" (such as an interest). Appear like you're easy to talk to and don't immediately launch into telling them about all of your scripts. Wait for them to ask you what you're writing. The bottom line: treat people like human beings and stay in touch. Relationships take time to build.

3) Write various sample scripts

If you want to write for bigger budget projects, you should have writing samples that prove you can write them.

Kraig wrote several low-budget "crazy neighbor" thriller scripts that aired on Lifetime. But he also had other goals. So despite getting steady work writing scripts in that specific budget range, he also wrote bigger-budget spec scripts that served as proof that he could write for a bigger scale. A producer read one of his big budget scripts, liked his writing, and hired him to write a television series for Morgan Creek (The Thing, Robert DeNiro's The Good Shepherd). Want to write for a big budget movie franchise one day? The proof should be on the page. Write a spec script and treat it as a writing sample. The chances that you'll write a spec script for a movie budgeted around $150 million and get it made with very little writing experience is almost none. But if your script is really good, a producer will look at it and may consider you for a writing assignment on an existing project.

In addition to the television series, Kraig is now writing a project he describes as a high point in his career: a mega-budget trilogy being produced by Tom DeSanto (producer of the X-Men and Transformers series) based on a legendary Chinese folk tale. Kraig was first introduced to DeSanto by another producer, Steve Chicorel, who had met Kraig on InkTip in 2006! In fact, that connection led to him writing extra lines for reshoots on X-Men: Days of Future Past.


4) Treat writing goals like exercise

Kraig's treats writing like any normal job. His writing schedule is simple: he usually writes every morning for a few hours. He remarks that writing is like lifting weights: with every new day that you lift weights, you're going to get stronger and stronger – so start with smaller goals. Write a couple of pages each day. Then, you can progress to completing more and more pages each day.

Find what time of day works for you. Kraig writes his darker material, such as his thrillers, at night. He writes his lighter comedy stuff in the mornings.


In conclusion, Kraig took these actions:

Focused on his writing and began writing a genre very well
Wrote spec scripts in genres/budgets he wanted to write
Stayed in touch with producers
Created a disciplined writing schedule with realistic goals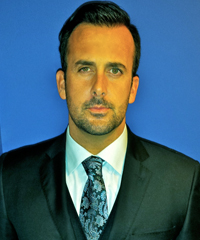 Kraig Wenman looking snazzy.
---

You can see Ashley Meyers' website here, which hosts all of his podcast interviews, including interviews with InkTip writer Brian D Young and InkTip founder and President Jerrol LeBaron.

Kraig Wenman is represented by David Saunders at APA and Eric Williams/Jeff Belkin at Zero Gravity Management.

You can find Kraig on Twitter here.