Film Commissions
Go here to post your Film Commission.

North America > United States > West Virginia
West Virginia Film Office
WV Film Industry Investment Act
Designed to recruit business prospects to film in West Virginia and to hire West Virginia labor, this program provides eligible business prospects an opportunity to receive a tax credit (transferable) for 27% or 31% of their qualified in-state expenditures for filming in West Virginia. Funded at $5 million annually (July 1-June 30), there are no caps per project and the minimum spend is one of the lowest in the nation at $25,000. Eligible projects include feature length films, TV films and series, commercials, music videos, and commercial still photography. Complete details are available at www.wvfilm.com/incentives.

State Sales Tax Exemptions
Purchases and rentals of tangible personal property and purchases of services directly used in production are exempt from state sales tax (excluding food, beverages, motor fuel). To receive this exemption, registration with the Tax Department is required, and with the exception of Sole Proprietors, all vendors must also register with the Secretary of State. To apply for this exemption with the Tax Department, complete the Direct Pay Permit available for download at www.wvfilm.com/incentives.

River On Demand (TM)
Ever wanted to control the flow of a river? RIVER ON DEMAND (TM) is your answer. The flow of the Gauley River can be modulated to suit production every November. A complimentary service made possible by the U.S. Army Corps of Engineers, Huntington District, safety issues take precedence and advance planning and notice are required. Contact the West Virginia Film Office to assist with arrangements.

Fee Free Locations
State-Owned or City- or County-Owned Properties: Many state-owned or city- or county-owned properties are fee-free, although depending on circumstances, cost recovery charges may be applied. And depending on the nature of the request, a location fee may be assessed. Permits and proof of liability insurance are required. To maximize cooperation, all filming requests should be first submitted to the Film Office to ensure navigation of the appropriate channels of communication.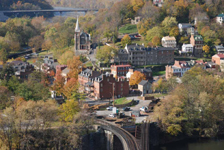 As a member of the Association of Film Commissioners International, the West Virginia Film Office is a full-service commission and provides comprehensive assistance to business prospects.

The WVFO staff is your best resource to help make your filming a success, whether it be for a feature film, television series, music video, or commercial. We utilize an established statewide, film friendly network of governmental agencies, local business leaders and community representatives to ensure all channels of communication are properly navigated and production challenges are quickly resolved.

Complimentary services include: Connections to the state's skilled workforce and business service providers; Acting as a liaison among governmental agencies, community and business leaders, and property owners; Scouting locations and preparing photo packages; Securing site access and assisting with permits; Coordinating itineraries and assisting with mapping and augmented research; Maneuvering the process for participating in the film tax incentive program; and Providing media assistance when needed.
Oops! You need to log in to use this feature. Log in above or register for your free
InkTip account here